An eventful stay of a special kind can begin.
Located in a well-drawn Landscape conservation area in the Lower Rhine in the midst of old poplars and surrounded by meadows and fields can be found here on the Rhine.
Located 755 Klm from the source of the Rhine this is a place of recreation and a good observation
point for watching the famous Rhine barges and cruise ships as they float leisurely past the campsite, where a lot of friendly waving back and forth takes place. It is a beautiful site from which
to watch the sunset and the lights of the ships reflected in the river. There
are times when a ship will drop anchor for the night, just off -shore from the
camp site, and you will hear the sound of the anchor chain as it gentle clinks
in the water. As we are situated on the banks of the Rhine and not by a private
lake you may hear the throbbing of the boat engines as they glide past our
campsite. With a little imagination you could think that you were at sea.
If you are lucky you may hear the sound of a nightingale in our nature reserve and after a restful nights'
sleep, you will wake up to the dawn chorus, refreshed and ready for another fun-filled day. Our campsite
is also the starting point for many excursions in the region of Rhein-Kreis Neuss, Dusseldorf and the Ruhr Area.
Our location on the Rhine cycle path gives you the advantage of being able to use the newly created miles of bike
paths through the meadow marshes on the dike.
The camp site is approximately 3.8 hectares in size and is approximately 850 mts along
the Rhine embankment. The site can accommodate about 100 seasonal camper. Approximately 200 plots are reserved for tourist guests. Camping here is ideal for the whole family.
If you have any questions, please do not hesitate to contact our reception, or any member of staff. We will be happy to help with advice on special events, tours or what's to do in the area. If we don't have an answer we will find someone who does.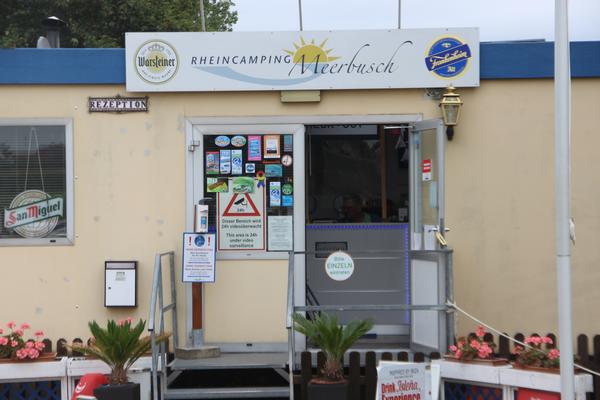 Considerable effort is put in by Rainer Breitbach jun. Markus Brix to insure your stay at Rheincamping Meerbusch is a pleasant and memorable one.
Your hosts, Rainer and Markus, put great emphasis on keeping the pitches as
close to nature as possible, which means that they are not surrounded by privet
hedge or fences, so these areas remain natural. However, you will find
hedges and bushes along the bank of the Rhine by a beautiful natural meadow.
• Season starts from early April till mid October
• Located at Rhine reference, Kilometer 755
• Sand and or stone beaches with beautiful bays
• Pitches for holiday guests
• Caravans for rent
• Rhine Cask for rent
• Communal lounge with kitchen for lightweight campers
• Water sports on the Rhine possible
• Fishing
• Beach Volleyball
• Football pitch
• Bicycle Rental
• Group tent area including camp-fire area
• Mini market
• Daily fresh bread service
• Gas Service
• Paid Wireless Wi -Fi (chargeable)
• Gorgeous Spanish Beach Tropicana Tropicana Beach, with
Spanish tapas and snack dishes. Please note - outside dining only.
Takeaways are available if the weather is inclement.
• Laundry room with washing machines and dryers