...and where to go then...
The camp site is located at river point kilometer 755, where you can watch the boat
traffic from the smallest canoe to rowing boats, white Rhine pleasure boats, barges
and container ships from all over the world . Directly on the opposite bank is the
great and picturesque imperial Palace of Kaiserswerth, which has hosted the Emperor
Barbarossa and today hosts main events and concerts throughout the summer. Why
not use the Rhine ferry to get there ,which is situated right on our doorstep . The ferry
runs from 7.30 am to 8 pm to Kaiserwerth and from there you can take the S-Bahn to
the provincial capital Dusseldorf . Here you will find endless shopping opportunities
especially on the world famous Königsallee. As well as shopping there are many
famous sights from the Media Harbour up to the Roncalli Circus . Or you can take the
S-Bahn from Kaiserwerth in the opposite direction and visit Duisburg, which has Germany's
largest inland port. Football fans will especially enjoy the proximity to Fortuna Dusseldorf ,
Schalke 04 or Borussia Mönchengladbach . Children can also enjoy the zoo in Krefeld ,
Legoland and Sealife in Oberhausen or the farm for children in Neuss and the barefoot path .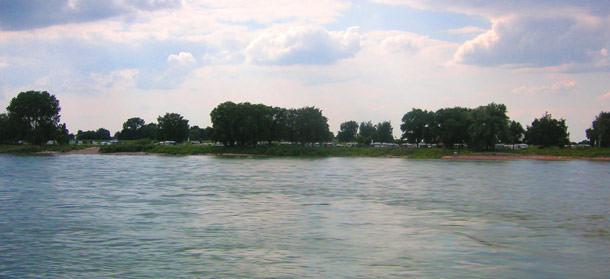 You can swim in the Rhine from our beach at the campsite and there are also several good
outdoor and indoor swimming pools in the vicinity .

There are many seasonal events that go on in the area, such as the largest fair on the Rhine
that takes place in Dusseldorf, The Japan Day with its spectacular firework displays and the
world famous Caravan Salon Expo in Dusseldorf , which takes place at the end of August.
There are also many shooting matches held here.

You may be more interested in visiting the many museums in Dusseldorf and the famous
Museum Island Hombroich .

For sports enthusiasts , there are endless cycle routes along the Rhine or if you prefer to
go skiing in the summer then that's also possible, and very popular, in the ski hall in Neuss .

After experiencing a fun -filled day you can relax by sitting back to enjoy the sunset at our
campsite and watch the almost soundless ships on the river as they glide past.

If you are lucky enough you may hear the sound of a nightingale from our nature reserve
and after a restful nights' sleep, you will wake up to the dawn chorus, refreshed and ready for
another exiting day.